Call us on: +32 479 97 98 97
Mon-Fri 8.30-5 and Sat 9-12.30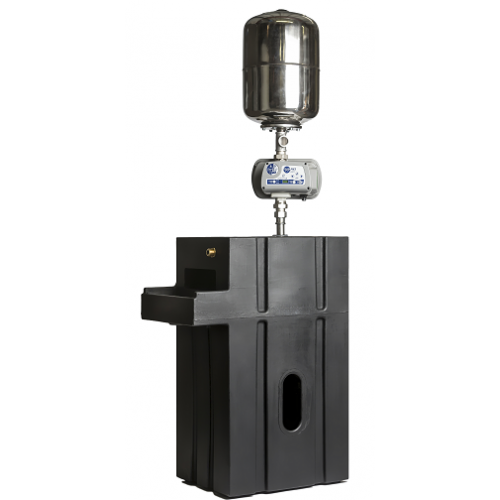 HECATON
Brand: D&O TECHNICS
Product Code: HECATON
Availability: In Stock
The HECATON is a breaktank type AB with a water capacity of 100 liter.
Inside the breaktank we mounted a Calpeda or Lelli submersible multi-stage 5″ pump which is controlled by an electronic pressure controller.
The unit can also be used as a boosterset for 1 or different taps when the watersupply or pressure are insufficient.
The HECATON is a complete unit, ready to use without any further assembly, and extremely compact – EASY to install !!
Details
A big advantage is the integrated AB airgap with an overflow connection of 50 mm .
The HECATON has different approvals: BELGAQUA & KIWA but is also WRAS compliant.
How this it work:
at any time we have available 100 liter of water. As soon as the pump starts pumping water, by pressure drop or water demand, fresh water enters the tank until the maximum waterlevel is reached.
The pressure controller mounted above the pump, will start & stop the pump and protect against dry-running.
Electronic pressure controller :
"P" PRESFLO 1.5 bar : fix starting pressure 1.5 bar
"PM" PRESFLO MULTI : adjustable starting pressure 1.5 à 3 bar
"ST" STEADYPRES : constant pressure 3.5 bar
Specificaties
Start & stop and dry-running integrated
Integrated professional mechanical float : 3/4″ BSP
Type AB air gap with overflow connection in 50 mm
Allowed to be connected directly without extra backflow non return valve to the mains
Compact dimensions: 400*600*1500 mm depending of controller & pump
Total weight without water: 23 kg
Power supply: 220 Volt 50 Hz
Starting pressure pump: standard 1,5 bar (on request other possible)Applications
dentists, maintaining waterlevel in domestic simmingpools and jacuuzi, farming, professional dishwashers, steamers,houses, appartments, rainshower, multi jet shower…
Only logged in customers who have purchased this product may leave a review.